Advanced
Text
Many alumni, faculty, staff and friends give to Ohio State Physics regularly. There are numerous funds available and the process is easy. Explore the many ways you can make a difference.  Once you have determined which fund interests you, please visit the OSU Giving Web site to give online or mail your gift to:
Text
Office of the Chair
1040P Physics Research Building
191 W. Woodruff Avenue
Columbus, Ohio 43210
Media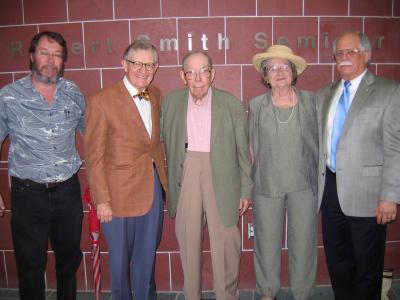 Text
Dr. Norman Gearhart and Rev. Carolyn Piper provide funding for "The William R. Riley Excellence in Teaching Physics Award
---
Emeritus Professor Bill Riley was honored by friends of Physics Dr. Norman Gearhart  (M.S. '69, Ph.D., '73) and his wife Rev. Carolyn Piper Gearhart with the establishment of "The William R. Riley Excellence in Teaching Physics" Award.  The inaugural award was announced at the May 26, 2011 Physics Department Picnic.  The recipient was Daniel Kestner who was unable to attend due to teaching at the time of the awards ceremony. Dr. Gearhart and Rev. Piper along with Dr. Bill Riley were in attendance to announce the award. This award is intended to be given annually to a graduate teaching assistant who exemplifies excellence in teaching physics. Attendees at the picnic were honored by a surprise visit from President Gordon Gee just minutes after the announcement of the Gearharts' generous gift.  
Pictured: President Gee and Chair Jim Beatty with Bill Riley, Carolyn Piper and Norm Gearhart at the announcement of the Riley Award
Media
Text
Steve Price and Jill Levy fund the "Price Place" in CCAPP
---
The Price Place is a state-of-the-art interaction space for CCAPP postdocs, students and visitors.  Dedicated in May 2011 by the generosity of Steve Price and Jill Levy.
The Price Place allows CCAPP to create a space for visitors to interact with faculty, post docs and students enhancing physics research from excellent to eminence. The vision of Price Place through the help of King Business Interiors, is designed as a space for three purposes: visitor space, member lounge, and private research meeting room. A SMART Board Interactive Display provides our postdocs and visitors with a visual and creative way to collaborate more efficiently.  
Pictured: Terry Walker presenting plaque naming Price Place to Steve Price and Jill Levy