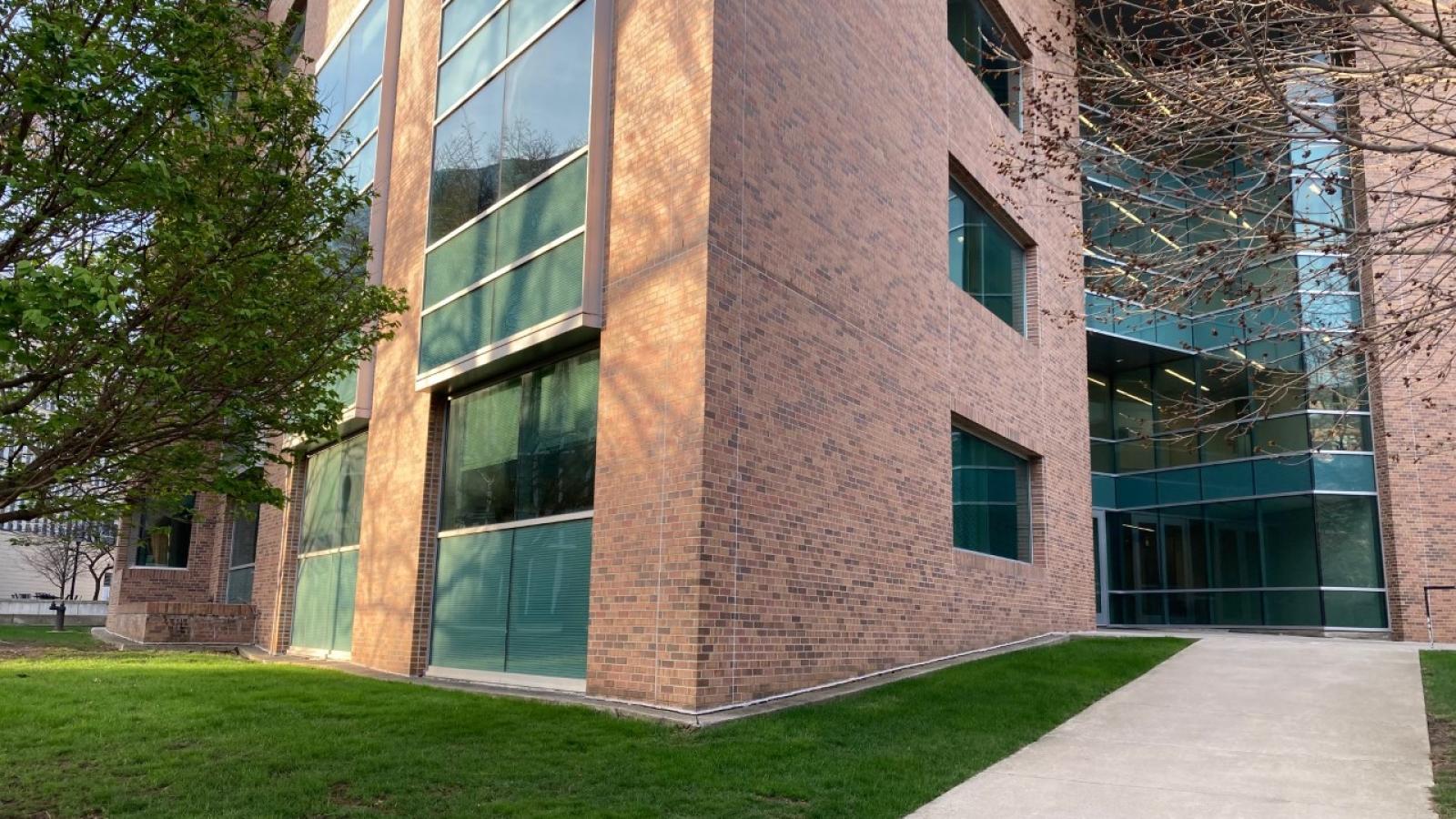 Body
The Department of Physics at the Ohio State University is one of the university's largest and most diverse departments.  As a department in the division of Natural and Mathematical Sciences in the College of the Arts and Sciences, the Department of Physics occupies the recently built Physics Research Building as well as instructional and advising space in Smith Laboratory, the former home of the department.  The department currently has 54 faculty and approximately 60 postdoctoral researchers and research scientists, 190 graduate students, and 500 undergraduate majors.  
Research
Our faculty, postdocs, research scientists and students conduct world-class research in the following
areas:
Astrophysics
Atomic, Molecular & Optical Experiment and Theory
Biophysics
Condensed Matter Experiment and Theory
High Energy Experiment and Theory
Nuclear Experiment and Theory
Physics Education
World Class Faculty
Our faculty members are fellows of elite organizations and winners of prestigious awards both at the university level and at the national and international level.  Be sure to look at our complete list of awards.
Awards List for Current Faculty
The Ohio State University Distinguished Faculty Awardees
Distinguished University Professor
The Distinguished University Professor title is awarded permanently to no more than three exceptional faculty per year. The title recognizes accomplishments in research, scholarly or creative work, teaching, and service that are both distinguished and distinctive.
2015 - Ulrich Heinz
Emeriti recipients:

2003 - Eric Herbst
2000 - Frank DeLucia
1997 - Arthur Epstein (deceased)
1989 - Bunny Clark (deceased)
1988 - David Edwards 
Distinguished Scholar
Senior professors are honored for their exceptional scholarly accomplishments and younger faculty members for their demonstrated scholarly potential.
2023 - Mohit Randeria
2022 - John Beacom
2021 - Christopher Hirata
2020 - Michael Lisa
2019 - Nandini Trivedi
2017 - Len Brillson
2014 - Samir Mathur
2012 - Lou DiMauro
2011 - Junko Shigemitsu (emerita)
2007 - Ulrich Heinz
2003 - Eric Braaten
2002 - Tin-Lun (Jason) Ho
1999 - Frank De Lucia (emeritus)
1998 - Eric Herbst (emeritus)
1996 - David Stroud (emeritus)
1992 - Gary Steigman (emeritus - deceased)
1991 - Arthur Epstein (emeritus)
1985 - C. Jayaprakash
1984 - David Edwards (emeritus)
Alumni Award for Distinguished Teaching
Honored for their superior teaching, faculty members are nominated by present and former students and colleagues and selected by a committee of alumni, students and faculty.
2020 - C. Jayaprakash
2018 - Andrew Heckler
2013 - Douglass Schumacher
2009 - John F. Beacom
2008 - Robert J. Perry (emeritus)
2007 - Brian L. Winer
2005 - Richard Hughes
2005 - Bruce Mainland (emeritus)
2004 - Klaus Honscheid
2003 - Samir Mathur
2001 - Greg Kilcup
2000 - Linn D. Van Woerkom
1999 - Robert Scherrer
1997 - Richard Furnstahl
President and Provost's Award for Distinguished Faculty Service
Faculty members are recognized for their contributions to the development and implementation of university policies and programs through non-administrative roles, while continuing to teach and pursue scholarship.
2008 - Gordon Aubrecht (emeritus - deceased)
2001 - Robert J. Perry
2000 - Bunny C. Clark (emerita - deceased)
Culture
The faculty, staff, and students of the Department of Physics take part in several activities aimed at engaging the public and cultivating an interest in science among young people.
The OSU Women in Physics Blog aspires to give young people, especially females, a sense of what it is like to live a life in physics, whether it be studying, researching, or teaching.
GRASP (Girls Reaching to Achieve in Sports and Physics) is an annual summer camp that allows middle school girls to learn about physics and how it relates to different sports.  This program is currently on hiatus.
Breakfast of Science Champions - This annual program invites middle school children from the Columbus Public Schools to breakfast and then provides a program of a short lecture followed by hands-on fun experiments in physics.  The Center for Emergent Materials has organized this effort in physics an includes physics faculty, staff and students.
Wellness
In 2013 the Department of Physics in collaboration with the Society of Women in Physics designed, constructed and furnished a Wellness Suite. This is a room designed for use primarily by breastfeeding mothers, but also for any other individuals who require a private, clean space during the day for physical or mental health needs. The room is on the third floor, lab side - Room #3100, and is equipped with a sink, refrigerator and microwave, comfortable chair, and phone. Use of the room will be governed by a reservation system. Contact Kris Dunlap or Shelley Palmer for Room code and schedule.
Inclusive
Gender neutral restrooms are available on the office side in the hallway outside of 4138 PRB.