September 10, 2019
Prof. John Beacom named 2019 Postdoc Mentor of the Year
Image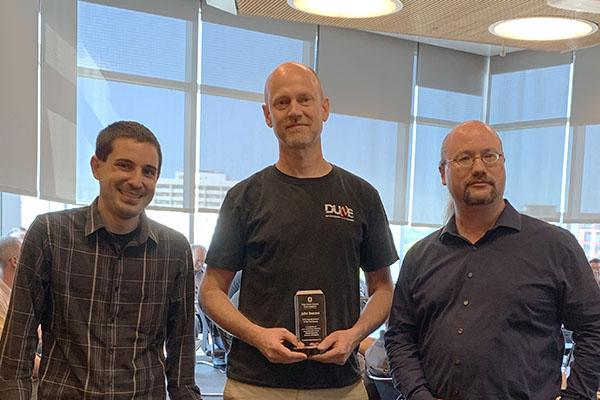 Description
The Office of Postdoctoral Affairs (OPA) is pleased to announce that John Beacom is the 2019 recipient of the annual Mentor of the Year Award. The Faculty Mentor of the Year Award recognizes a faculty member who has engaged in exceptional mentoring of postdoctoral scholars.
Dr. Noah Weisleder, Faculty Director of OPA, and Dr. Marcela Hernandez, Administrative Director of OPA, appeared at the Physics faculty meeting on 29 August 2019 to make this surprise announcement.
Dr. Beacom is the Henry L. Cox Professor of Physics and Astronomy, a Distinguished Professor of Arts and Sciences, and Director of the Center for Cosmology and AstroParticle Physics (CCAPP).  He is a member of OPA's Postdoctoral Advisory Council and is the mentor for Presidential Postdoctoral Scholar Dr. Steven Prohira.  Dr. Beacom was nominated by a group of 14 present and recent CCAPP postdocs, led by Dr. Tim Linden.  Dr. Beacom takes a comprehensive approach to mentoring, covering scientific development, communication skills, interdisciplinarity, how to teach and mentor, public outreach, and anything else needed to help people do their best work and grow into scientific leaders.  This year alone, four of his postdoc and student mentees are starting faculty jobs.
Additional information at u.osu.edu/osupac/mentor-of-the-year-award
Pictured left to right is Dr. Tim Linden, Dr. John Beacom, and Dr. Noah Weisleder.
---