June 28, 2019
Physics Department Celebrates Shelley Palmer's Career and Retirement
Image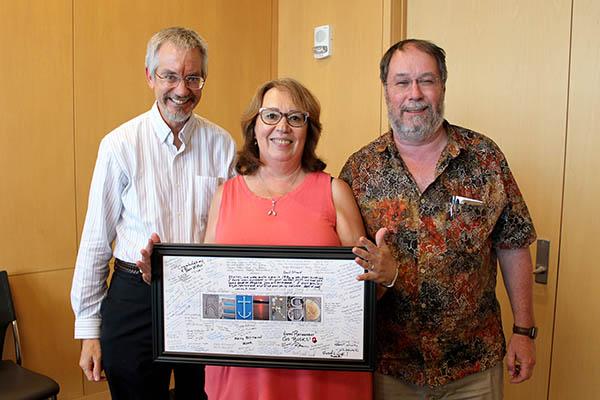 Description
The Department of Physics celebrated Shelley Palmer yesterday as she says thank-you and farewell to the OSU community after 23 years of service. Shelley has a long history with the Department of Physics that began in 1996 as administrative assistant to Professor John Wilkins. In 2003, she began working in the President's Office, working under President Karen Holbrook (until 2007) and then President E. Gordon Gee. Shelley returned to Physics in 2010 as Executive Assistant to Physics Department Chairs Jim Beatty (until 2016) and Brian Winer.
During her retirement party, colleagues commented on Shelley's ability to solve problems quickly, her commitment to physics faculty, staff, and students, and how she's played a key role in keeping day-to-day activities running smoothly in the department. Her kindness and thoughtfulness were also mentioned by many.
Her last day is Friday June 28. We wish Shelley all the best!
Additional pictures from Shelley's retirement party can be found on the OSU Physics Flickr page.
Advanced
---