May 9, 2023
Eighty four Physics and Engineering Physics majors graduated this academic year
Image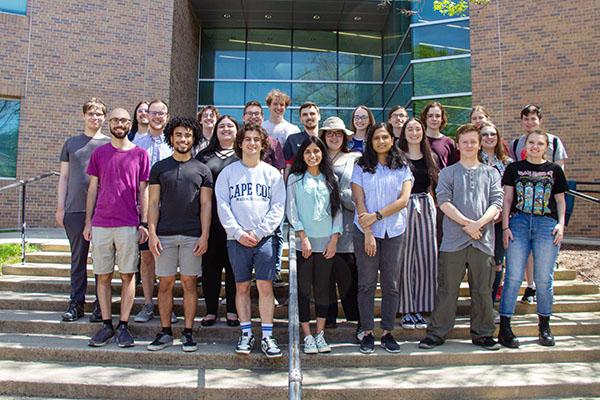 Description
Sixty four undergraduate students graduated on May 7 with degrees in Physics and Engineering Physics. 65 Physics and 19 Engineering Physics majors graduated during the 2022-2023 academic year for a total of 84 students. 51 students graduated with Latin honors, 25 graduated from the honors program, and 12 graduated with research distinction. 
Pictured are some of our spring graduates who stopped by the PRB after graduation rehearsal on Friday.
Congratulations to all of our graduates!  
Engineering Physics
Alyssa Blanc
Connor Cummins
Andrew Dalton
Madison Geiger
Malik Hollis
Xiuhan Hu
Alex Keast
Noah Malik
Jackson McClellan
Evan Philipp
Charlie Plummer
Santhusht Prasad
Hendrix Price
Simon Robso
Alex Schumacher
Blaise Sherlock
Drew Spanfellner
Jeremiah Whisler
Physics
Jonah Ammons
Hyun Anderson
Justin Barns
Dawson Black
James Blackshire
Jacob Borison
Daniel Boyea
Noah Bungart
David Cai
Brandon Chamberlain
Seth Cox
Haotian Da
Arijit Das
Sam Eckart
Ethan Fahimi
Simon Filbert
Aditi Fulsundar
Cullen Gantenberg
Alex Giovannone
Ishan Gore
Clark Hou
Ray Hua
Candice Kang
Marlin Keller
John Kim
Jeff Knoop
Kolya Larson
Matt Lastovka
Jay Maier
Idris Malik
Christopher McCarty
Douglas McIntosh
Cassie Moats
Sean Myers
Manali Nayak 
Sahar Nikkhah
Hannah Parsons
Barbara Ptackova
Keondrae' Robinson
Lauren Robinson
Justin Rooks
Seal Russell
Ethan Schieb
Mackenzie Scott
Karish Seebaluck
Matt Shmukler
Rachel Slaybaugh
Andy Smith
Caleb Smith
Aidan Snyder
Autumn Stephens
Bowen Su
Kosuke Takano
Qi Hao Tan
Clark Van Lieshout
Zach Weinland
Conner Whitt
Jessy Wu
Linnan Yu
Ximing Yuan
Tom Zhang
Xuanzhi Zhang
Collin Zheng

 
---