April 26, 2019
Caroline Jipa receives prestigious Goldwater Scholarship
Image
Image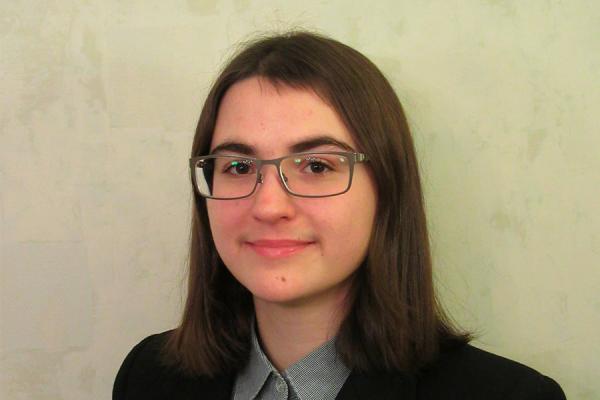 Description
Junior Physics and Chemistry major Caroline Jipa is one of four Ohio State Students to receive 2019 Barry M. Goldwater Scholarships.  Caroline aims to earn and Md/PhD in biophysics in order to conduct research on cellular pathways for regenerative medicine using biophysics techniquest at an academic medical center.  Professor Michael Poirier is advising Caroline's research.
Caroline is joined by fellow juniors Thomas Porter majoring in chemical engineering, Vilas Winstein majoring in mathematics and computer and information science and Mihui Zhang majoring in electrical and computer engineering.
When asked for her reaction to receiving this award, Caroline shared "I am honored to have received the Goldwater Scholarship and appreciate that my work has been acknowledged at a national level. I am excited to have received an award that helps me continue to pursue a career in research. Many thanks to all the people who have helped me succeed, especially all my fellow lab members at the Poirier Lab".
Her research is summarized below:
For efficient storage and protection, DNA in cells is packaged into chromatin. The base unit of chromatin in the Nucleosome, 147bp of DNA wrapped around a histone octamer core. Different levels of DNA packaging effect the accessibility of DNA and gene expression. For example, the DNA in a Nucleosome is inaccessible to normal transcription factors (TFs). A subgroup of TFs have high affinity to sites in nucleosomes. To study the mechanism of these TFs, we examine Reb1 and CBF1, in S. Cerevisiae. We characterize the binding kinetic to nucleosomes vs free DNA via electrophoretic mobility shift assays, ensemble and single molecule FRET and PIFE measurements. We find Reb1 and CBF1 have similar affinity to DNA and Nucleosomes but different kinetics, such as longer dwell times to nucleosomes. We find that these behave similar to human Pioneer Factors, suggesting a conserved mechanism.
Read more
Congratulations!
---