May 2, 2017
John G. Whitcomb Distinguished Staff Awards presented at Department Picnic
Image
Image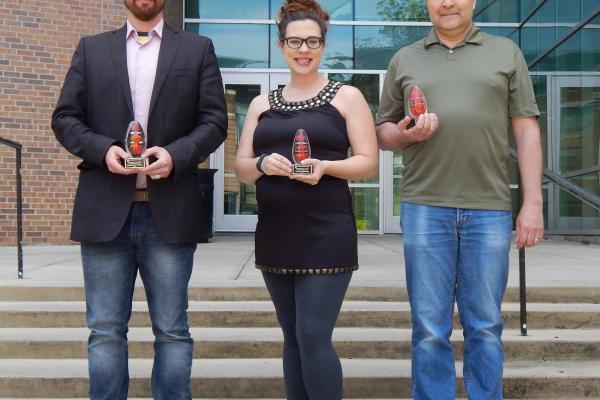 Description
The annual department picnic was the site of the annual awarding of the John G. Whitcomb distinguished staff awards.  This year eight persons were nominated for the three awards given.  Winners of the award were:  Christopher Porter, nominated by Jon Pelz.  Jon's nomination cited Chris for his outstanding service to the department in particular his work with the Bridge students.  Crystal Moloney was nominated by Dick Furnstahl for her above-and-beyond efforts in both her role in the graduate studies office and on the newly formed Climate and Diversity Committee.  Denis Pelekhov was nominated by Rachel Page for his conscientious focus on safety and willingness to help graduate students and faculty to get their projects done.
Five others were nominated including:  Jenny Finnell, Rachel Page, Michelle McCombs, Katie Ferrell and Kent Ludwig.  The Chair's administrative management team along with the Vice Chairs had a difficult time in deciding among such a stellar group of nominees.
Congratulations to all of the nominees and awardees for all you do for the faculty, staff and students in the Department of Physics!
---