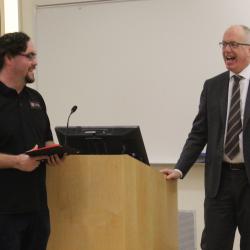 Chris Healy, Instructional Aids Assistant, in the Department of Physics was surprised by Executive Dean David Manderscheid and a room full of well-wishers today. Chris was one of three ASC staff members honored with the Above and Beyond Buckeye Award, an initiative of the Executive dean and the Arts and Sciences Advisory Council to recognize arts and sciences staff members who go above and beyond in their daily work.
The selected staff members receive a certificate and $200 cash award added to their next paycheck!
Chris was nominated by Lindsey Thaler, a fellow staff member in physics. Lindsey's nomination included mention of Chris's excellent daily work, but especially called out his efforts to improve morale in the department by including staff members that might work in isolated areas into staff events. Chris is well known for bringing in chocolate covered strawberries on Valentine's Day, baking birthday cakes for fellow workers and spearheading potlucks in the department. Chris is currently a member of the Physics Staff Advisory Committee as well.
Congratulations Chris. This honor is well-deserved.