Monday, August 6, 2018 - 9:00am
to
Friday, August 10, 2018 - 5:00pm
Physics Research Building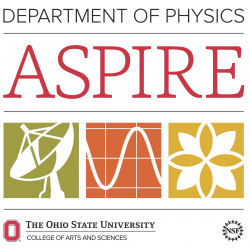 The first session of the ASPIRE (Achieving in Science throu Physics Instrumentation, Research and Exploration) Workshop will begin August 6 and run through August 10. This workshop is sponsored by Ohio State University and the National Science Foundation and is for 10th, 11th and 12th grade women. ASPIRE hopes to inspire more high school women to choose a career in the sciences, especially Physics. Attendees get hands on experience and learn physics principles while completing an active research project.
Dropping in on the closing session of one week last year was inspiring. Everyone was so energized about their successes and failures and the fact that they really learned alot while having a good time.
To learn more about ASPIRE go to u.osu.edu/aspire. Volunteers are still needed for this two session camp (2nd session is Aug 13-17). Contact Carl Pfendner to volunteer.